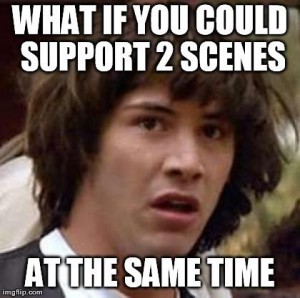 Listings are at Alternative Control's discretion and may not reflect set order.  We do not attempt to list all shows at all venues, but we do try to include the good metal shows.  (And sometimes other shows that look cool.)  See something we missed? Want your shows listed? Leave a comment or contact us.
Local Metal and More
5/19
Murder Junkies, Barb Wire Dolls (from Greece!), Empty Vessels, Damn Broads, Goat Herder, and more at the El n Gee in New London
Graven Image, Crossing Rubicon, Hard Candy, and Murray the Wheel at Cook's in Naugatuck — proceeds benefit Relay for Life, show starts at 4:30.
5/24
Shallow Ground, Angry Again, and more TBA at Cherry Street Station in Wallingford
Weedeater, Snow Orphan, and more TBA at the El n Gee in New London
5/23
Sadplant, Pickpocket, and Big Mark T and the Double Barrels at Cherry Street Station in Wallingford
Michelle Riganese, Malcolm Tent, and Brute Force at Two Boots in Bridgeport
5/25
The Midnightmares, Tied for Last, and the Theatre Zombies at Seaside Tavern in Stamford
She Walks Without Legs, Hollow Is Thy Heart, Protocol Seven, Sworn To Remember, Declarations, The Green Invaders, No Honor Among Thieves, The Words We Use, and Under A Serpent Sun at Cherry Street Station in Wallingford
Our Own Destruction, Physics of Demise, and From Peasants to Kings at Elm Bar in New Haven
Beneath the Marrow and Single Bullet Theory at Dewey's Pub in Seymour
5/26
Pour at the Shore at Seaside Tavern
5/30
Dephago, Mutant Supremacy, Murrum, and Alcoholicaust at Cherry Street Station in Wallingford
5/31
Jessie and James' Birthday Bash ft. Lyra, Burn the Bodies, Jimmy Junk Bird (ex-Pink Missile), Kayotik, Continuum, and Eyes of the Dead at Cherry Street Station in Wallingford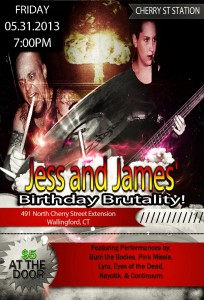 Warstike 666, Doomsday Machine, Arduous Task, and Alcoholicaust at Seaside Tavern in Stamford
Lightsbane, Xenosis, Wilderun, and Aether Realm at Cook's Cafe in Naugatuck
1/2 Hallow Opening Reception at The Mercurial Gallery in Danbury
6/1
Drunk Dan's Summer Shit Show 2 ft. Dream of Scipio, Apostasy, The Maddening Process, She Walks Without Legs, The Begotten, and Lightsbane at Cherry Street Station in Wallingford
6/4
Cannibal Corpse, Napalm Death, Immolation, and Magrudergrind at Toad's Place in New Haven
6/7
Martyrd, Oath of Insanity, and more at Cherry Street Station in Wallingford
Apostasy, ORCumentary, Deathwish, and Maniac, at Dewey's Pub in Seymour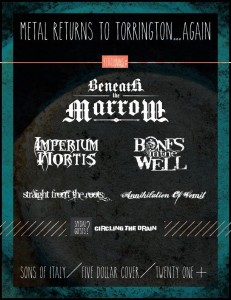 6/8
Queensryche with Graven Image at Webster Theater in Hartford
Crossing Rubicon, Denial, and Enemy of Reason at Bleachers in Bristol
Beneath the Marrow, Imperium Mortis, Bones in The Well, Straight From The Roots, and Annihalation of Vomit at Sons of Italy in Torrington
6/14
Lyra, Goat Herder, and more TBA at Seaside Tavern in Stamford
6/15
Decapitated at Santos Party House in NYC
6/19
Xenosis, Replacire, Formless, and Acius at Cherry Street in Wallingford
And even though these are out of our time frame…
6/22: Opuspalooza 2013 ft. Dead By Wednesday, DJ JennCity, Bonded Through Hate, Maniac, Priapism, The Curse of Her Flesh, Everybody Hates Me, and many more at Toad's Place in New Haven
6/29: Burn the Bodies, Jimmy Junk Bird, Left in the Attic, and RAIL at Fiddler's Green in Stamford — fundraiser for Alternative Control compilation album.
7/13: ORCumentary, Alcoholicaust, Shallow Ground, Apostasy, Weird Hero, Nasty Disaster, 60 Grit, Wings Denied, IKILLYA, She Walks Without Legs, and more at Cherry Street Station in Wallingford
7/19: Shallow Ground, Black Mass, Lords Anointed, and Eyes of the Dead at Cherry Street Station in Wallingford
7/21: Mayhem Festival ft. Rob Zombie, Five-Finger Death Punch, Mastadon, Amon Amarth, Machinehead, Children of Bodom, and many more at the Comcast Theater in Hartford
7/23: Mayhem Festival at the PNC Bank Arts Center in Holmdel, NJ
7/27: Second Annual Battle Stag Records Summer Stampede ft. Bad Decisions, Empty Vessels, The Maddening Process, and more TBA at the Heirloom in Danbury
8/4: Black Sabbath at the PNC Bank Arts Center in Holmdel, NJ
8/10: The Midnightmares and more TBA at Fiddler's Green in Stamford
8/10: Alice In Chains, Jane's Addiction, Coheed and Cambria, and more at Comcast Theatre in Hartford